My name is Dr. Ari Greenspan. I have been a Jerusalem Dentist since 1989. I studied the University of Medicine and Dentistry of New Jersey.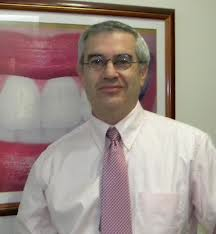 Dr. Ari Greenspan Jerusalem Dentist
Our office offers the unique blend of old Jerusalem charm and warmth of a Jerusalem Dentist. We are a cutting edge dental clinic. Our Jerusalem Dentist hi-tech dental environment is professional. We provide an unusually wide range of services for our patients. It includes general anesthesia for fearful adults and treatment of fearful children. Dr. greenspan was the first dentist in Israel to use CEREC technology to make one hour porcelain crowns. He has been treating the international community here since Aliya in 1988, including the international press,   the diplomatic corps, and the UN.
We are located in the Gan Technology, the premier high tech center in Malha, Jerusalem, near the Malha Mall.
Recent continued dental education:
2012 Updates in Sleep Dentistry
2012 Greater NY Dental Meeting
2012 Social  Media and Dentistry
2012 Advances in Laser Dentistry
2012 Oral Medicine and Cancer
2012 University of Bern- 3 day course on bone grafting and sinus lift surgery
2012 Oral cancer detection and oral medicine
2012 Orthodontics for general practitioner
2011 Periodontics update- anti inflammatory and healing
2011 Halitosis and treatment of bad breath
2011 Implants and bone grafting advances
2011 Dental team management and communications
2011 Sinus surgery and grafting techniques
2011 botanical drugs and advances in treatment
2010 Greater New York Dental meeting
2010 Pankey Institute -5 days morning till evening classes in dentistry, restorative dentistry and office management
2010 Bruxism and Sleep disorders and dentistry
2010 CT's and dental diagnosis
2010 Sleep management and dentistry -Los Angeles
2009 Medical emergencies in the dental office
2009 Bone grafting techniques update
2009 CT scan interpretation course
2009 Sleep disorders and dentistry
2008 Functional occlusion and orthodontic
2008 Implant complications and bone aumentation
2008 Bone augmentation surgical course
2008 3D implant placement
2007 posterior porcelain mechanics
2007 Anterior esthetics
2006 Israel Dental Expo
2006 Removable and fixed Prosthodontics
2006 Cleft Palate- updates in treatment
2006 cast inlays and onlays
2006 women"s health issues and dentistry
2006 Pharmacology review
2006 Implant advances
2005 Greater New York Dental Meeting
2005 Esthetic dentistry
2005 occlusion
2005 Dr. Christianson Dentistry Update
If you need, dental implants, porcelain crowns, general anesthesia, or tooth whitening please be in touch soon.